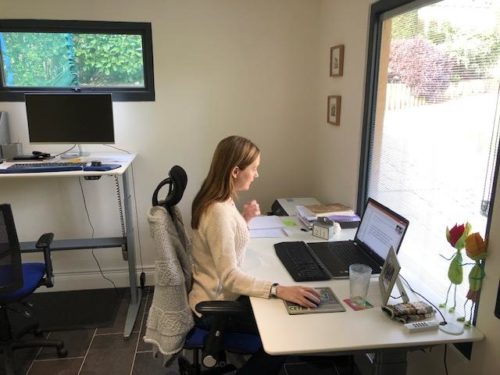 Want your child to work with an author to help improve their English and writing skills?
The most important thing for me, as an author, is to pass on my love of stories, share my enthusiasm for writing and help kids believe in their abilties. I feel it's important we encourage creativity in all its forms. When you partake in a creative activity regularly, it helps you become a better problem solver in all areas of your life and work. Instead of coming from a linear, logical approach, your creative side can help you assess a situation from all angles.
In school, those who could write a good story or draw beautiful pictures were considered the special ones who were creative, but research shows that all people have the capacity to be creative.
Creativity is one of the most important characteristics of being human. It is one of the main traits that make us successful as individuals and as a species.
Working as a freelance writer for over ten years, I've been helping people find the right words, whether it's for their business, or a book they're writing. I set up Storymakers in 2017 and have been working with children, in groups, or individually, ever since. I bring my experience as a writer, author and mother (of three children) to the work I do.
Book a virtual session with me. They are available singularly, or in money-saving blocks. Once you have booked your session(s), we can arrange a suitable time-slot.
My two daughters aged 8 and 10 years participated in several of Nikki's Easter workshops. I was unsure as to how these would work due to their 'virtual' nature, but any concerns I had were immediately quashed as they proved to be extremely inter-active, educational, age appropriate as well as both challenging and lots of fun.
Nikki had pitched the lessons brilliantly and used a wide range of materials and resources that were able to stretch both of my daughters creativity in regards to their story writing as well as develop their comprehension skills. The Vocab and SPAG session was also extremely valuable as it certainly helped widen their vocabulary as well as highlighted some areas for improvement.
Both children really enjoyed the sessions and the discussions that emerged from them and I would thoroughly recommend Nikki's sessions to others.
Nikki makes the work really fun and I enjoyed working with and discussing ideas with the other children on the course.
(Georgia aged 8)
All the sessions were really interesting and enjoyable. I particularly liked reading and answering questions on the comprehensions as they were all so different. I think I learned a lot of new vocabulary and hopefully have improved my spelling skills too.
(Maisie aged 10)