WELCOME TO THE STORYMAKERS CREATIVE WRITING CLUB
Storymakers is a creative writing club for children aged 7+ years.
Whether you want to work on your story-writing technique, or learn about different styles of writing, the Storymakers club has something to suit everyone.
The small and friendly group settings offer children the opportunity to gain confidence in their writing in a fun environment; one that also encourages imagination and creativity.
About the Founder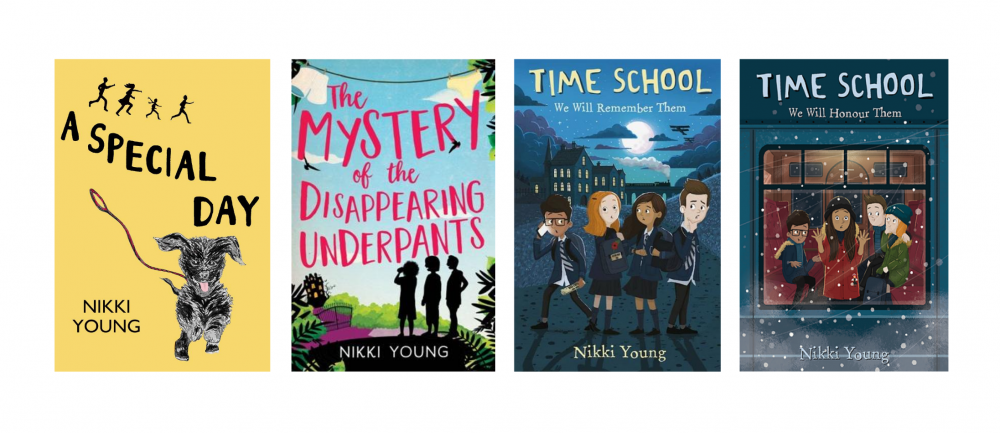 Hi, I'm Nikki Young, author of 'The Mystery of the Disappearing Underpants', 'Time School: We Will Remember Them', 'Time School: We Will Honour Them' and 'Time School: We Will Stand with Them'. I started Storymakers in 2017. My aim was to bring my experience as a writer, along with an enthusiasm for stories, to a setting that provided a creative space for children to flourish and learn.
I love reading and writing stories, but I'm fully aware that not all children feel as passionate about it as I do. Having met many children who are reluctant to write, I've been determined to change that.
My motivation for creating Storymakers was to offer a setting where children could feel safe to write. Furthermore, perhaps they could overcome the barrier that prevents them from translating those awesome imaginations into words. Since setting up the club in 2017, I've gone from offering a few one-off workshops, to providing a full timetable of weekly termtime groups. In addition, I also offer 1:1 tuition or bespoke sessions for private groups.
In March 2020, the club moved online and I was able to continue offering the same services, but on Zoom.
This meant that instead of needing to be within a reasonable distance of Sevenoaks, Kent, the club's base, children could join me from anywhere in the UK or the world. I'm lucky to have worked with children in Europe, Africa and the USA. And as far as the groups are concerned, it's been amazing for the children to connect with and learn from each other.
I now offer in-person 1:1 and bespoke group sessions. I have, however, kept the weekly creative writing groups online, for the reasons given above. In addition to the groups, I work with children who are studying for 11+, pre-test and independent school exams, including CEM, GL and ISEB.
Writing has always been my life. As a professional writer, I have experience in writing to inform, entertain, persuade and educate. To date, I am also the author of five novels. As such, I bring this firsthand experience to my work and it is the reason many people choose me to work with their children.
Feel free to take a look around and find out what's on offer:
Alternatively, you can contact me for more information.