Would your child like to become a published author?
Book Writing Workshops are held online during school holidays
There's nothing more motivating than holding a book you've written in your hands. At the book writing workshops, during the course of a week, we work through from idea formation, to planning and writing. Once their story is completed and edited, the children then receive it as a hardback book.
The children are always thrilled to get their books in the post and can't wait to show them off to friends and family. If you would like to encourage your child to see the rewards of writing, a book writing course with Storymakers is ideal.
Workshops at the Storymakers Writing Club take place in the school holidays via Zoom.
If you would like to sort out anything bespoke (or in person) please contact me at storymakers@nikkiyoung.co.uk.
Next Workshop dates: TBA
Can't see anything suitable on here? Book your own private group either on line or in-person. See times for a bespoke session of 45 or 60 minutes, for an individual or group of up to four. Contact me if you'd like to organise a bigger group.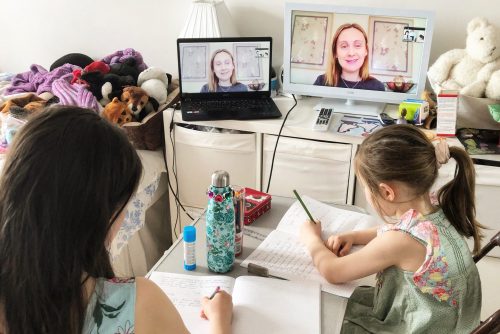 ********************
There are workshops at Storymakers during most school holidays.
Important update. Please read:
All groups and workshops at the Storymakers Club are conducted virtually. That's good news if you don't live nearby, as it means we will be able to welcome you into the Storymakers' fold from wherever you are!
If you would like any help with extra support for your child/children, please let me know. I can work with them on a one-to-one, or small group basis via Zoom. Please go to the Virtual Sessions page to book.
My two daughters aged 8 and 10 years participated in several of Nikki's Easter workshops. I was unsure as to how these would work due to their 'virtual' nature, but any concerns I had were immediately quashed as they proved to be extremely inter-active, educational, age appropriate as well as both challenging and lots of fun.
Nikki had pitched the lessons brilliantly and used a wide range of materials and resources that were able to stretch both of my daughters creativity in regards to their story writing as well as develop their comprehension skills. The Vocab and SPAG session was also extremely valuable as it certainly helped widen their vocabulary as well as highlighted some areas for improvement.
Both children really enjoyed the sessions and the discussions that emerged from them and I would thoroughly recommend Nikki's sessions to others.
Nikki makes the work really fun and I enjoyed working with and discussing ideas with the other children on the course.
(Georgia aged 8)
All the sessions were really interesting and enjoyable. I particularly liked reading and answering questions on the comprehensions as they were all so different. I think I learned a lot of new vocabulary and hopefully have improved my spelling skills too.
(Maisie aged 10)
This page is updated regularly, so please check in to find out what's on, or alternatively sign up to the newsletter to be kept updated with all the latest news and offerings.