Here, you'll find details of the workshops on offer at the Storymakers CLub this summer.
In June and July, I will be offering some free workshops as part of the Barnes Children's Literature Festival and the Tunbridge Wells Fringe Festival.
During the summer holidays, I will be offering various hour-long workshops, Monday to Thursday morning over the course of six weeks. Please scroll down for further details, or visit the website shop to book.
In Person Events coming up.
June 2021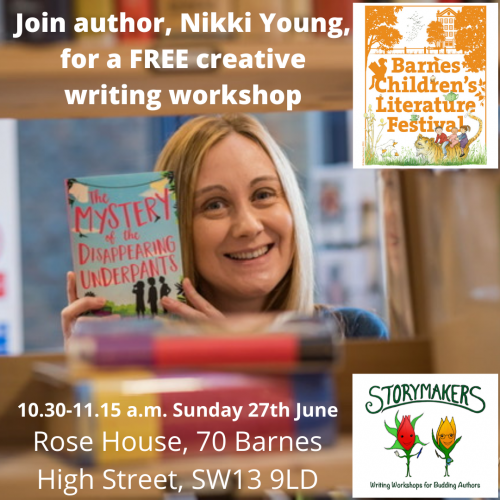 Join me at the Barnes Children's Literature Festival for a FREE creative writing workshop on Sunday 27th June, 10.30-11.15 a.m. TICKETS REQUIRED.
Venue: Rose House, 70 Barnes High Street, London, SW13 9LD.
July 2021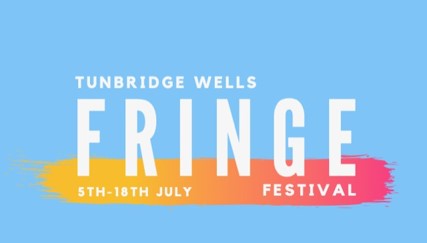 Join me on Thursday 8th July, 4-5 P.M. at the Zero Waste Company and Friday 9TH July, 4.30-5.30 P.M. at the Manna Cafe, Christ Church, Tunbridge Wells for a FREE creative writing workshop (ages 7-11 years). TICKETS REQUIRED.
*********
Workshops at the Storymakers Writing Club take place in the school holidays.
Next Workshop dates: 26th July – 29th August.
Between Monday 26th July and Thursday 2nd September, I will be offering a pick-n-mix style series of workshops.
Here's what's on.
Mondays: Comprehension
Tuesdays: Vocabulary
Wednesdays: SPAG
Thursdays: Creative Writing
Time: 8.30-9.30 a.m. daily
Where: On Zoom
Who is it for?: Children in KS2
Pick your sesssions and your days to suit. To book, go to the website shop.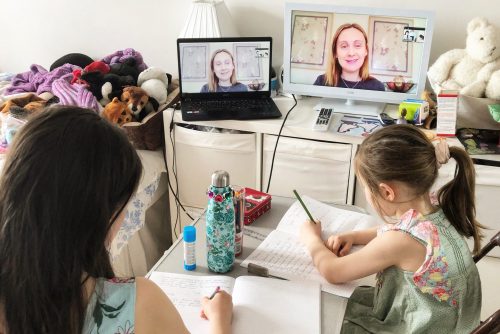 There are workshops at Storymakers during most school holidays. These include regular English Revision, Vocab and SPAG workshops for Years 4 and 5, Creative Writing workshops and many more.
Important update. Please read:
All groups and workshops at the Storymakers Club are currently being conducted virtually. That's good news if you don't live nearby, as it means we will be able to welcome you into the Storymakers' fold from wherever you are!
If you would like any help with extra support for your child/children, please let me know. I can work with them on a one-to-one, or small group basis via Zoom. Please go to the Virtual Sessions page to book.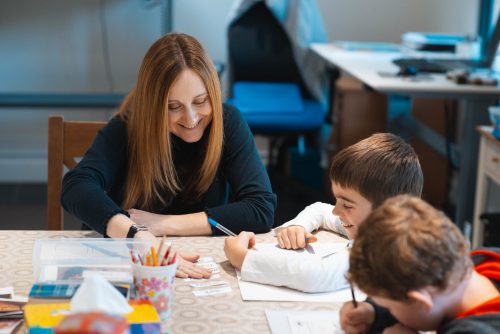 My two daughters aged 8 and 10 years participated in several of Nikki's Easter workshops. I was unsure as to how these would work due to their 'virtual' nature, but any concerns I had were immediately quashed as they proved to be extremely inter-active, educational, age appropriate as well as both challenging and lots of fun.
Nikki had pitched the lessons brilliantly and used a wide range of materials and resources that were able to stretch both of my daughters creativity in regards to their story writing as well as develop their comprehension skills. The Vocab and SPAG session was also extremely valuable as it certainly helped widen their vocabulary as well as highlighted some areas for improvement.
Both children really enjoyed the sessions and the discussions that emerged from them and I would thoroughly recommend Nikki's sessions to others.
Nikki makes the work really fun and I enjoyed working with and discussing ideas with the other children on the course.
(Georgia aged 8)
All the sessions were really interesting and enjoyable. I particularly liked reading and answering questions on the comprehensions as they were all so different. I think I learned a lot of new vocabulary and hopefully have improved my spelling skills too.
(Maisie aged 10)
This page is updated regularly, so please check in to find out what's on, or alternatively sign up to the newsletter to be kept updated with all the latest news and offerings.
Here are some examples of the workshops I've conducted in the past.
Book Trailer Workshop
Write a convincing blurb for your favourite story or a new one of your making, and we'll turn it into a trailer. Like a film trailer, book trailers are designed to be a teaser of the story, with just enough information to pique interest, but not too much as to give away the plot! For this workshop, you will need an iPad and have the Animoto App downloaded.
Illustrated Story Book
Taking inspiration from the late, great, Judith Kerr, we will create our very own short stories, adding illustrations and a cover for a complete mini-book.
Comic Strip Writing
Can you lay out your ideas, storyboard style and add just the right amount of text to make an interesting story? Some practical skills required, but your artistic talents need not extend beyond stick men. Comic strip writing is all about the dialogue and not forgetting the all-important use of onomatopoeia – Kapow! Boom!
Video Scripts
Stories are everywhere, whether it's an advert to help sell a product, a newsreel or even a recipe show. We'll be scripting our own stories and bringing them to life on film. No acting skills required, but you will need an iPad and the iMovie app.
Spy School
Learn how to become a secret agent and solve your very own mysteries. We'll be creating clues, finding suspects and motives and putting them together to form the ultimate mystery stories.
English Revision Workshops for Year 5's
For those with the 11+ or Common Entrance Exams hanging over their heads this summer, we'll work through each aspect of the English and verbal reasoning papers to help with last-minute revision or to keep everything ticking over and fresh in the mind.