Most people have their preferred point of view when it comes to writing.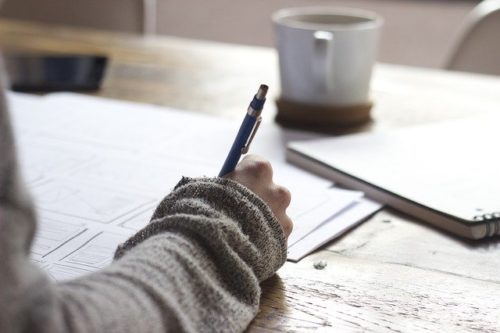 It helps to understand each method though and today, I have a guest post written by Isobel, to explain the different points of view and how to use them.
Isobel is one of the Young Writers and she's in Year 9.
Point of view matters a lot. It determines who the readers empathise with, who we see the story from, what key points we experience. But how do I, a budding author, decide which point of view to use in my story? Fear not, because here's my Point Of View 101 Course!
1st Person
We'll start off with something simple: who is telling the story? We commonly use the first person in children's fiction. However, you can also find it in several classical novels e.g, David Copperfield, The Woman In Black and Huckleberry Finn. It's when you tell your story like it's a personal account, using the pronouns I and We. This type of writing is helps the reader experience a world properly. It is for this reason it's heavily used in teen dystopian fiction like The Hunger Games and Divergent. You can be really chatty and informal with this perspective. Just make sure to actually tell the story and not get distracted rambling about little things your character finds annoying!
2nd Person
You'll rarely see the 2nd Person in fiction, and indeed in overall stories. When you use the second person, you talk using You (singular) and You (plural). You tell the story through narration as if you are by the character's side. Typically, you'll see this Point Of View in Choose Your Own Adventure games and Text Adventures online. It is unlikely you'll see this much in traditional fiction. However, it's just as useful as any other point of view, and it has its uses.
3rd Person (Open)
The third person open is a literary technique in which the author tells us what is going on in every character's head. You can find this in many novels, such as Swallows And Amazons, Little Women and A Series Of Unfortunate Events. The author can choose to use this if they want to use multiple characters to to tell a dynamic story. Go and read the first A Series Of Unfortunate Events book, and anyone will tell you that each character has their own arc. When all of those arcs collide, readers get to see how each character's actions, feelings and impulses contribute to the greater story.
3rd Person (Closed)
The most commonly found point of view in children's books is the third person closed. This includes books such as The Enchanted Wood, The BFG, or The Twits. It's when you tell a story of using on one character, and the author tells that story without delving into how other characters in the book feel about things. Sometimes, this can feel detached, especially in older books, but other times it can be brilliant for surprise reveals. For example, in The Witches, when the author reveals that the lady on the platform is indeed, The Grand High Witch.
And that's point of view! You can use each of these perspectives in many different forms, with variations depending on the time it was written, the characters the story focuses on or even the author's own style. So, just remember, every Point Of View can have a story, but not every story has the potential to use every Point Of View.
Thank you, Isobel.
Once you've decided on a point of view, you can refer to this blog to help you choose the right starting sentence for your story.