Want to engage your reluctant writer to put pen to paper? Get them to write a letter.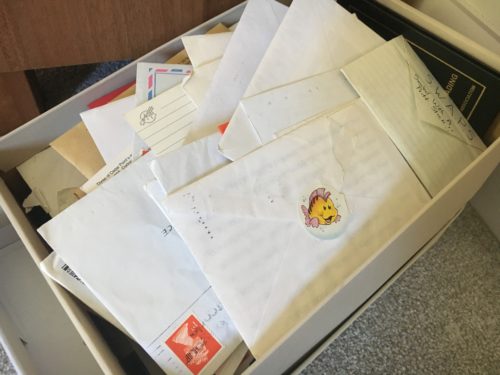 This is a box of letters I kept from my teenage years. It is my life at that time, catalogued, my email thread of old.
Yet, it's tangible.
People of my generation remember what it feels like to send and receive letters; the excitement of when the Post arrives and there is a handwritten note with your name on it.
And I'm not THAT old, but I was 22-years-old when I first owned a mobile phone and even then, you couldn't do much with it.
To pick up these letters and read them is like opening a window to my past. Even though it's only one-way, you're right back there in an instant.
There's something to be said about having those memories so close and so real, don't you think?
Our kids don't write letters, they send messages.
It's instant. It's realtime. But have you ever read any of your kid's messages? Do they actually use words? Most of them seem to communicate using emojis and they don't say anything that is interesting!
Are they missing out?
A part of me thinks so.
A part of me thinks every child should experience the joy of sending and receiving letters and there is no better time than right now to get them to do this.
I saw a post on Facebook the other day asking if people would like to write letters to the residents of their carehome. What a wonderful idea. Why not get your children to do this?
Get in contact with a carehome and ask if you can write to someone in there. Failing that, there are so many grandparents stuck at home right now, I'm sure they would be thrilled to receive a letter: I know my mum would. She's a widow and being all alone in her house day after day is hard. She's so bored, she told me she can't even be bothered to read; and this from someone who never has her head out of a book for more than five minutes!
A couple of years ago, I tried to start a Pen Pal club at Storymakers, but it didn't take off, for some reason. Perhaps children aren't as intrigued with the idea as we are, perhaps it's the nostalgia that we cling to and they just can't relate to that.
I wonder if attitudes might change now they are stuck at home. We're all trying to engage our children and keep them stimulated. When it comes to writing, this might just be the thing that does that.
In fact, the other day I received an email from a parent whose child had read one of my books and loved it. She asked could he write to tell me about it. I was thrilled and of course, I said yes! I love receiving letters – the only ones I usually get are bills!
So, for today's writing practice, get your child to write a letter. If it's not to a grandparent, or relative, get them to write to their favourite celebrity, or even one of their school friends.
If you're worried about stamps, don't be. You can buy and print your own postage labels and stamps on the Royal Mail website. I did that very thing this morning, in order to post out a copy of one of my books.